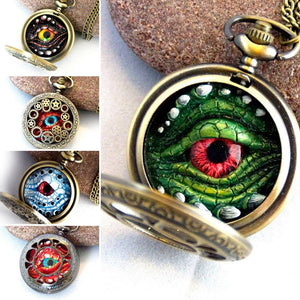 Please carefully read the whole listing before purchasing, always welcome to email me/message via Instagram or Facebook with any questions :) 

Details: Pocket Watchers are beautiful little detailed dragon eye sculptures completely hand made in polymer clay and set inside lovely pocket watch cases. Each dragon eye is sculpted by hand around a glass eye, there are no moulds involved, so each dragon eye is always slightly different and unique to its owner. They are then hand painted and peer out from their cases.
The pocket watch case is presented on a very long (80cm) chain but this can easily be switched out for something else. The cases measure about 4.8 cm across. 
How to order: Let me know what you'd like in the order notes when you place your order.
Available eye styles are shown in the last photograph, simply let me know the corresponding number of the eye you'd like.
Let me know which style of case you'd like: I currently only have the bronze petal design and the gunmetal colour steampunk gears design.
Finally let me know how you'd like the rest of it painted :) 

Completion Times
Please be aware before ordering that completion times will vary. These are all made by hand so may take longer at busier times. I may also need to order new cases to complete your order which can take a couple of weeks or so to arrive, so if you require it within a specific time frame please check availability before ordering <3 You are always welcome to drop me an email or message via Instagram or Facebook.
I will send photos to make sure you are happy with your dragon eye throughout the process.